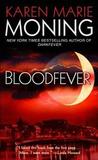 Bloodfever by Karen Marie Moning
My rating: 4 of 5 stars
This story just gets better and better! I want to just tell you all everything about this book but I can't! Ugh…. I don't want to spoil any of the fun for you guys. But trust me when I say, you'll devour this book just as fast or even faster than the first book! I love Mac and Barons character and how they complement each other even though they are opposites. We still don't know who or what Barons is but that's just one of the reason why the story line is so good! So off to finish the 3rd book! Happy reading my friends!
Book Summary:
MacKayla Lane's ordinary life underwent a complete makeover when she landed on Ireland's shores and was plunged into a world of deadly sorcery and ancient secrets.
In her fight to stay alive, Mac must find the Sinsar Dubh- a million-year-old book of the blackest magic imaginable, which holds the key to power over both the worlds of the Fae and of Man. Pursued by Fae assassins, surrounded by mysterious figures she knows she cannot trust, Mac finds herself torn between two deadly and irresistible men: V'lane, the insatiable Fae who can turn sensual arousal into an obsession for any woman, and the ever-inscrutable Jericho Barrons, a man as alluring as he is mysterious.
For centuries the shadowy realm of the Fae has coexisted with that of humans. Now the walls between the two are coming down, and Mac is the only thing that stands between them….